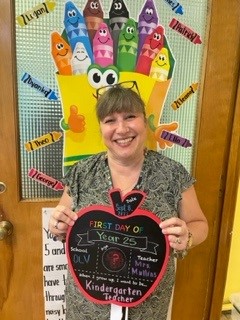 Mrs. Mullins
Kindergarten
Getting to Know Mrs. Mullins
Hi! My name is Mrs. Mullins, and I am excited to be the Kindergarten teacher at Our Lady of Victory Elementary School. This is my 11th year at OLV, and my 26th year as a catholic school educator. One of the main reasons I love teaching at Our Lady of Victory is that on a daily basis, we engage in faith-based learning. I enjoy having the ability to bring God into any lesson or situation that may arise throughout the day. Teaching at the school founded by Venerable Nelson Baker is a privilege, one I enjoy sharing with the children each day.
I graduated with both a Bachelor of Science and a Masters of Science degree in Elementary Education with a concentration in Reading from SUNY College at Buffalo. An Orchard Park resident, I am married, with three children, all of whom attend Our Lady of Victory School. My husband and I chose OLV for our children, not only for the excellent educational program and experiences which are offered, but also because of the strong bond between the teachers and children. It truly is a family atmosphere, where much learning takes place. Teachers are invested in the education and well-being of all children who walk through the door.
In my free time, I enjoy vacationing with my family. We love zoos, aquariums, the beach, and Disney! I am an avid reader, cross-stitcher, and crafter. I am a huge fan of the Buffalo Bills and Buffalo Sabres! I also enjoy hiking in the woods and even have 12 egg laying chickens!
As your child's teacher, it is my goal to provide a safe environment for learning, growing, and developing. Each day your child will be greeted at the door with a smile! Upon entering my classroom you will hear laughter and conversations, as well children engaged in learning, whether it is in small groups or via hands-on learning activities. My goal is to teach each child with a level of enthusiasm meant to foster a lifelong love for learning.