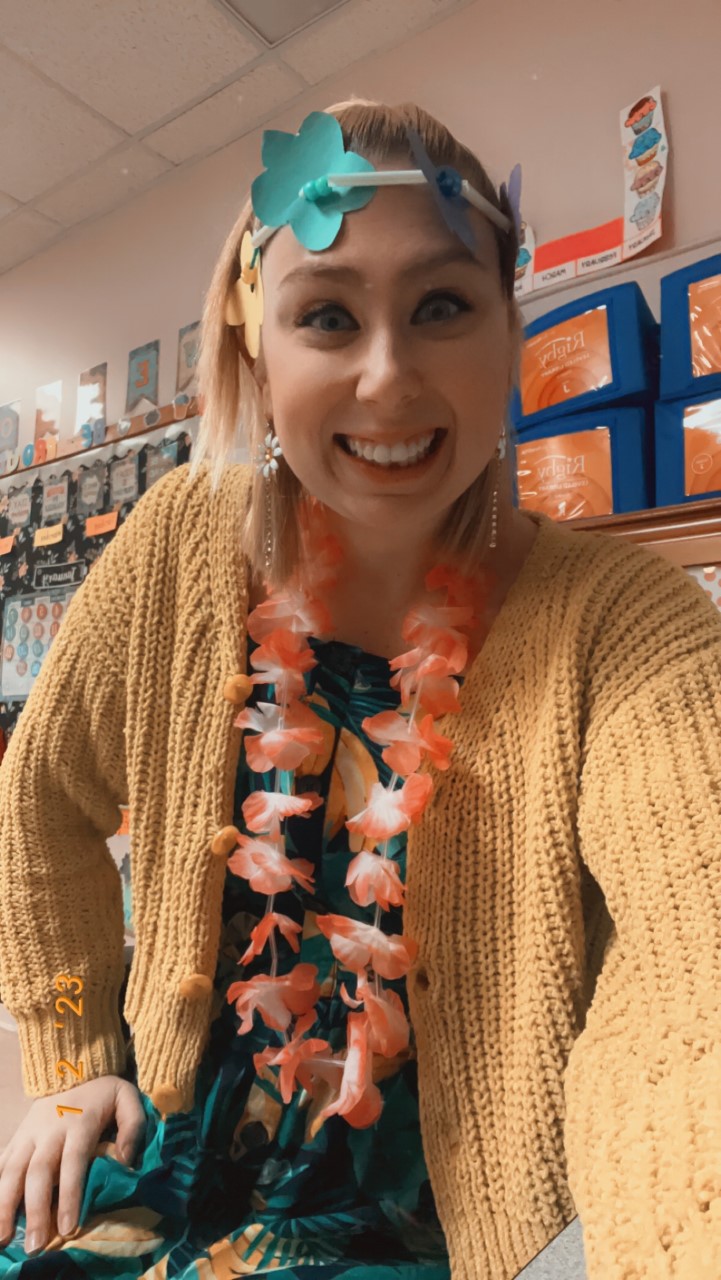 Miss Olejniczak
Grade 2

My Teaching Philosophy:
Ever since I was a young child, I thoroughly enjoyed going to school. I decided to continue with my education at SUNY Buffalo State, where I had many experiences working with all types of learners. For two years, I gained experience working as a lead Universal Preschool (UPK) teacher where I learned the importance of a multi-modal teaching approach. More importantly, I absolutely love the routine and structure of a positive learning environment. Therefore, I believe all children should have the opportunity to receive an education that it tailored to their specific needs. Every child is unique, ultimately possessing their own strengths and weaknesses. As a teacher, my job is to guide my students in a way where their strengths shine and their weaknesses are improved upon. Overall, my main goal is to create a learning community filled with respect, empathy, and kindness.
A Little Bit About Me:
Outside of the classroom, I love reading, listening to music, shopping, and dancing! My favorite book genres include fantasy, contemporary romance, and mystery. My favorite music genres include pop and country. I always have music playing, especially during independent work time! Next, my favorite places to shop are TJ Maxx and Marshalls. I love a great bargin! Also, I have a great passion for dancing! I have been dancing since I was 5 years old and I can't seem to get enough! I currently teach dance to students of all ages, even adults. I teach jazz, ballet, and lyrical! You will always find me moving and grooving!
For Current Students and Families:
Monthly Reminders:
10/5 - HSA Bills Dress Down Day $1.00
10/9 - No School
10/19 - Picture Day
10/24 - Family Fun Night (6:30 - 8:00)
Weekly Homework:
Monday:
Math: Lesson 4.4
ELA: Trick or Treat
Tuesday:
Math: No HW
ELA: No HW
Wednesday:
Math: Bar Graphs
ELA: Drog the Dragon
Thursday:
Math: No HW
ELA: No HW
Spelling Words:
No Spelling Test This Week
Monthly Glance:
SS: We will be talking about the importance of family and exploring communities.
ELA: We will be practicing our fluency by reading different types of stories. We will also be focusing on learning Author's Purpose, Setting, Character Traits, and Summarizing. We are also working on short vowel sounds and creating cohesive sentences.
Math: We will be working making a ten to add and basic math facts.
Religion: We will be exploring fundamental Christian principals and diving into what the Bible is and how God uses this to speak to us.
Schedule for Weekly Specials
Monday: PE
Tuesday: Art
Wednesday: PE, Tech
Thursday: Music
Friday: PE
Contact Info:
In order to streamline communication, please use my email, [email protected] or contact the office with any questions or concerns. Please make sure to look for a message from School Messanger, Remind, Check Google Classroom, or look on our OLV website. Thank you!
Please bring a water bottle and snack everyday!