A letter from Mrs. Kraus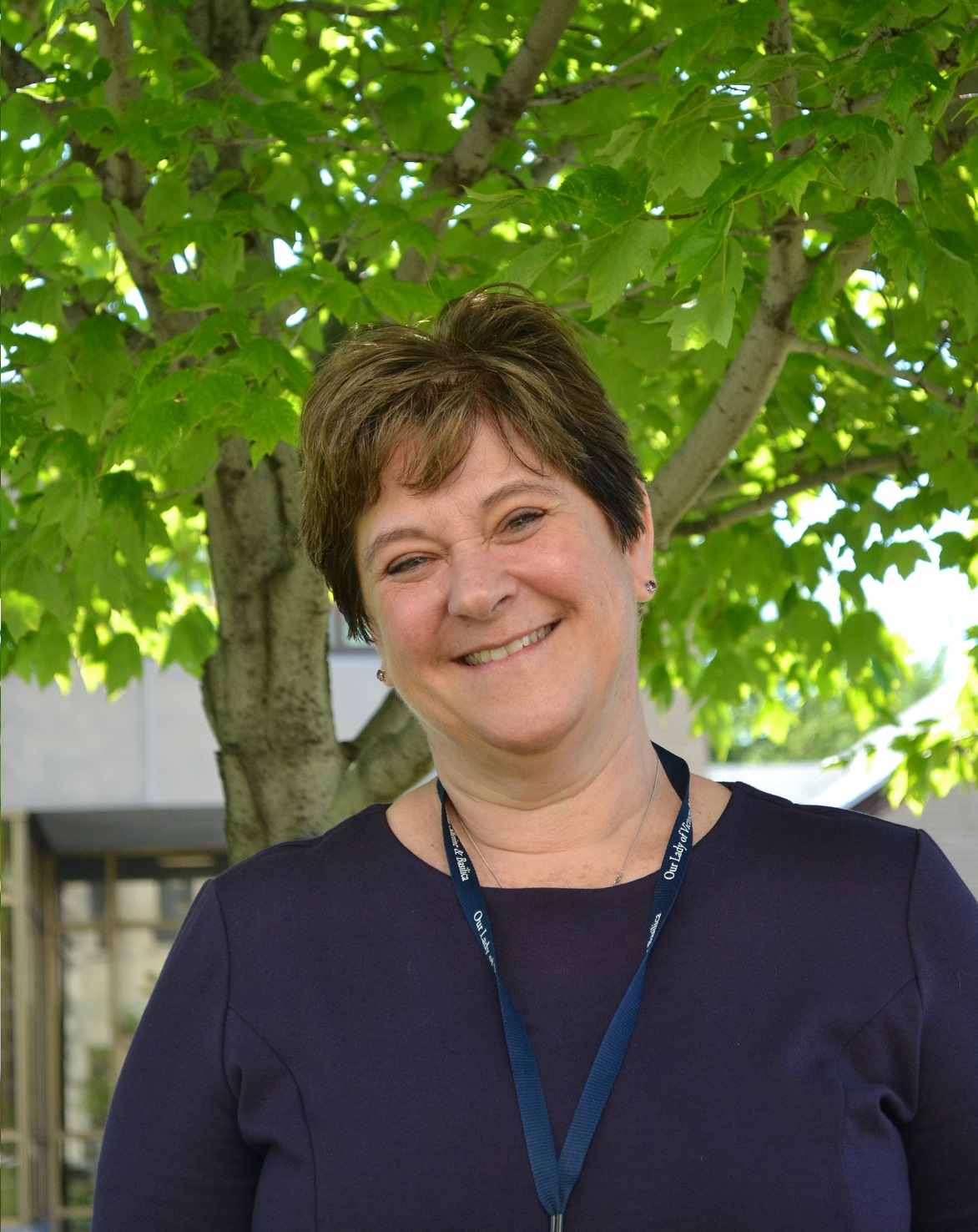 August 2018
Welcome, and Welcome Back, Our Lady of Victory Families!
On behalf of the entire faculty and staff, I hope everyone is enjoying a restful and relaxing summer. As I begin my third year here at OLV, I want you to know that I am particularly grateful for the blessing of this beautiful community of staff, students, and families in my life. I am so looking forward to seeing everyone on the first day of school, Thursday, September 6th. This year we will continue our consistent discussions on how staff and families can work together to ensure success for all students. A strong partnership between home and school will assist in providing an education that supports and empowers our students to reach their full potential as young men and women filled with promise and goodness. I am proud and excited to begin this new school year with our incredibly talented and dedicated teaching staff and your ongoing support and partnership. Let us begin this school year the same way we begin every day with our students, grounded in the mission of Our Lady of Victory School as we live and teach within the legacy and ideals of our founder, the Venerable Nelson H. Baker.
Our Lady of Victory School is a vital part of the mission of OLV Basilica and National Shrine. The mission of OLV School is to provide superior Catholic education, modeled after the vision of Father Baker, by fostering Christian values, academic excellence, and global awareness, in order to develop well-educated, responsible Christian citizens who contribute to the betterment of their family, their parish, and their community.
This year we welcome three new faculty members to our roster. Miss Megan Stachewicz will teach first grade as Mrs. Mullins moves into the Kindergarten position. Mr. Daniel Towle will be our new physical education/ 6-8th grade health teacher, and Miss Kaitlyn Fedele will take over as our new music teacher. I assure you they are degreed and certified in the areas that they teach and they are all excited to meet all of you and begin this new school year!
I am so excited to show off our new Technology Room! Through a very generous donor, we were able to secure a sizeable grant to give it a complete renovation. A wall was knocked out giving way to a much more generous learning space. New furniture was purchased in a variety of shapes and colors in order to give way to a setup that will encourage a more collaborative learning environment for teachers and students. We have received 30 new laptops, a complete kit of "Little Bits", a platform of easy to use electronic building blocks for creating inventions large and small for our young and old engineering minds. Virtual Reality Glasses will be added as well as a new state of the art interactive smart board! Our school is catching up quickly in providing a school environment rich in the tools that are needed to bring our students minds and abilities into the future for 21st Century Learning.
When you enter the school you will see a brighter second floor, the hallway and all of the classrooms are freshly painted. The second floor looks great!
As always, we continue to update our security and security procedures. Three new cameras are being installed on the third floor. Hopefully we can finish everything off in the future with cameras on all floors as well as in the gym.
Enrollment looks great for this school year with 195 students. Our Pre- kindergarten and first grade classes are filled and our sixth grade class has one spot left. Please continue to be the good ambassadors that you are for our school as you tell everyone you know of the good things Our Lady of Victory School has to offer.
The first day of school will be September 6th. Both September 6th and 7th will be half days of school to allow for teacher professional development days in the afternoon. Dismissal will be at 11:00 AM. Aftercare will not begin until the 10th of September along with our free breakfast and lunch program and all specials. The week of the 10th we will begin our regular full days. Teachers will be sending home their class specials schedule the first week of school.
School dismissal has been moved back from 2:15 PM to 2:30PM in order to ensure and maximize learning time and ensure a productive school day.
Summer reading and math assignments must be completed by all students entering grades 1-8. Completed assignments are required for the first day of school.
Morning Procedures: Doors open for breakfast at 7:00 AM; school begins at 8:00AM. All students should enter at door 1A underneath the Green Awning in the back of the school. Students should enter the cafeteria and take a seat of their choice at their assigned class table/tables. Free breakfast will be served from 7:00AM until 7:50AM. At 8:00 our daily morning meeting will begin. After morning announcements, prayer, and pledge the students will proceed to their classrooms for a short homeroom period. Classes for the day will begin at approximately 8:20.
Afternoon procedures: School is dismissed at 2:30PM each day. Every first Monday the students will be dismissed at 1:00PM for teacher faculty meetings. There are afterschool services for students on those first Mondays. At 2:30 our final prayer will be prayed over the intercom, buses will be called first if they arrive first, next pickups- parents please wait in your cars or near them until security calls you to door 1A to pick up your child. Children will be handed off to parents at door 1A. Walkers will be called last. They will be let out at the middle front doors where there will be a crossing guard present. All walkers must have a note of permission if they must walk home.
Aftercare is available from 2:45 until 5:30 for an extra charge. All parents who have children in aftercare may pick them up at the side cafeteria door. Ring the bell and the attendant will let you in to sign out your child.
Uniform: OLV scholars proudly wear school uniform according to our dress code, found in the student handbook. Dress code will be strictly enforced this year and we appreciate your attention to detail before they arrive to school each morning. Dress uniforms and gym uniforms may be purchased at McKay's or Flynn and O'Hara. If a student has a gym uniform they are allowed to wear it throughout the day on their gym days. No student will be allowed to go to class with bleached or dyed hair.
Thank you again for your attention to the many details of the new school year. As the school year comes closer I look forward to welcoming all of our families back to a new year. Know that we work hard to build a community of disciples with common faith-filled interests, hoping to serve our students, as well as the world around us, to the best of our ability. I pray that God watches over us as we display our love for him by doing the work he has made for us. Peace and blessings to each of you.
Sincerely Yours in Christ,
Carolyn Kraus
Principal